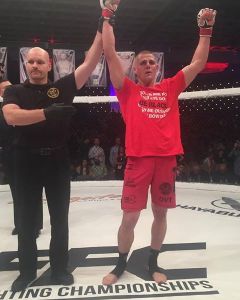 Tim "The South Jersey Strangler" Williams (15-3 MMA, 9-3 CFFC) is not fighting for money, but for his love of the sport.
In his Cage Fury Fighting Championships 63 bout against Jay "Da Syda Killa" Silva, (10-1-1 MMA, 0-1 CFFC) it showed.
The Millville, New Jersey resident wrestled his way to a unanimous decision victory against the former UFC Middleweight, Silva on Saturday, Feb. 18, 2017.
"I never got into this to be in the UFC, I got into it because I love fighting," Williams said. "It was a grind."
Williams planned to let his hands go, but he continued to shoot for takedowns as the fight progressed. The 30-year-old's face showed wear a tear from taking punches during his attempts to bring Silva to the canvas.
Williams made his way backstage after the bout with a cut on his right cheek and swelling under his left eye.
Although he took damage and stayed away from his original game plan to stand more, Williams is glad to add a victory to his record.
"I didn't expect it to turn into a wrestling match, especially when I had him against the fence because I moved back a little bit and he stayed there for me. I should have been calmer and cut loose with my hands a little more," Williams said. 'I am happy with any win I get, but I'm not happy exactly because I would like to get the finish."
UFC President Dana White, along with former UFC fighters Matt Serra and Din Thomas watched the entire CFFC 63 card for their talent seeking TV show, "Dana White: Lookin' for a Fight." It is not the first time Williams fought in front of White.
In the TUF 17 elimination round, Dylan Andrews earned a unanimous decision against Williams. After impressing White with his durability, Williams returned for season 19 of the show.
To earn a spot in the house, Williams finished Bojan Velickovic by third-round TKO (punches). After being picked by Team Penn, he lost to Dhiego Lima by a rear-naked choke.in the second round.
During his bout with Silva, Williams left the past behind and kept his eyes of White. With a five fight win streak and his CFFC 63 bout behind him, Williams said opportunities will come along when they are ready.
"I tried to not even look at him (White)," Williams said. "S@%t, I'm on a five-fight win streak, I'm 15-3 now. If he don't scoop me up, I'll go overseas and fight or I'll stay here to fight and make money."
By Connor Northrup