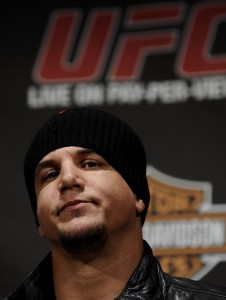 Frank Mir vs. Allistair Overeem is no longer on the UFC 167 card, but will now be a part of the UFC Superbowl weekend event in Newark, New Jersey. This heavyweight match-up will most likely be apart of the card's co-main event.
The former UFC heavyweight champion, Frank Mir has suffered three strait losses. Mir lost a title fight against Junior Dos Santos via TKO which snapped a three fight win streak. In his next fight, Mir was dominated by Daniel Cormier for three rounds. In his most recent outing, Mir was caught quick by Josh Barnett, losing by TKO in the very first round at UFC 164. This Fight is a must win for Mir.
Alistair Overeem has been unable to to re-enter the win columns, losing two strait fights. Overeem had a successful UFC debut when he finished Brock Lesnar by TKO, but hasn't been able to add on to that solo victory. Overeem was on his way to winning a decision over "Bigfoot" Silva, but was finished by KO in the final round. In his most recent outing, Overeem was finished via KO by Travis Browne at UFC Fight Night 26.